You want to be on top of the local maps search results, Google will make you pay.
Google hasn't done anything to combat fake listings in maps.  They depend on the public to report spam for them  buy using a form and then waiting.  I've done enough for Google. I've marked up sites so google could understand language and relationships.  I've used Google Voice for 10 years so they can learn languages and meanings.  I've contributed to the area as a local guide and got a free movie rental.  But I'm frustrated along with many other SEO and small business owners.
Google Maps got outed in the Wall Street Journal.
Google Maps is extorting business owners in the service area category.
Google allows spam and fake listings to be added to the GMB platform so honest business owners are forced to pay for Google Ads.
The screenshot below it self explanatory. I sent this to google along with the url of the listings  http://bit.ly/spam-anti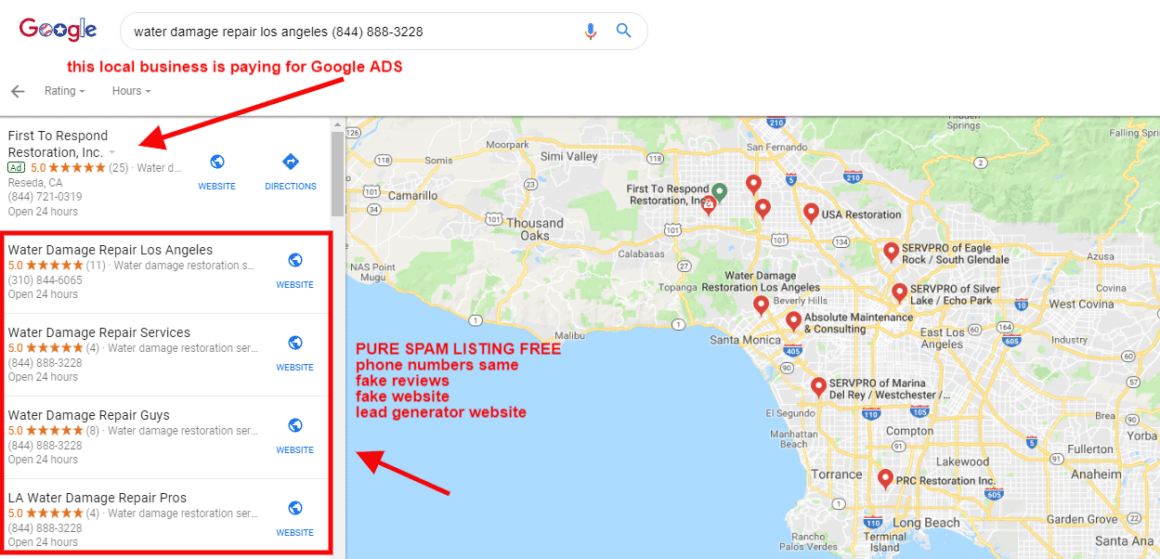 I reported these spammy listings but Google won't take them down.
When reporting these listings to Google, they ask the following on this form. 
Please explain in detail why you believe the content on the above URLs is malicious to be on Google Maps. *
My response.
The content on the above URLs is malicious to be on Google Maps.  The 14-business named Water Damage Restoration Florida in the maps listings are not local business or registered businesses. They are exact-match keywords used as the name of a business.
See attached document.
The addresses used to game geolocation are closed Chinese restaurants.  So Mr. Honest Plumber has to pay for a Google ad campaign and pay $50 a click for keywords related to water damage in the LA market.
While these fake business profiles earn up to $300 a call for a lead. It's not local businesses spamming maps, its affiliate marketers who can get paid per call, can rent the high-ranking listing in maps to the highest bidder and even rent out the website.  Learn about pay per call https://www.invoca.com/pay-per-call/
The spam in Google maps will eventually cost lives.
Imagine if a medical center wanted to get leads from people searching for the nearest hospital and used a fake address. This could cost lives.